Print Page
Tools & Resources for Veterinary Teams

The Beef Cattle Research Council is collaborating with practicing veterinarians and RVTs across Canada to build and modify trusted tools they can use or share with beef clients to improve herd health and profitability. Scroll down for just a few examples of the resources and tools available for veterinary clinics and the beef producers they serve.
If you are a practicing veterinarian or RVT with beef clients, sign up below to be notified when new decision tools become available.
Free Webinars for Vet Teams & Beef Producers (RVT CE Credits Available)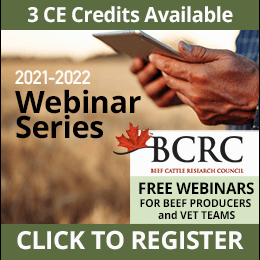 Register for the BCRC 2020-21 webinar series which includes live webinars on topics such as the basics of backgrounding, setting records, grazing plans and the new BCRC Johne's Risk-Reward Calculator. Some of the live webinars qualify for continuing education credits for registered veterinary technologists and technicians. For more information on CE accreditation for RVTs, please contact Dana Parker (parkerd@beefresearch.ca).
Recordings of past webinars also may be found on our webinars page.
Calf 911: Emergency Support for Distressed Newborn Calves
What Beef Producers Need to Know About Antimicrobial Use and Resistance
BVD Vaccination Cost Benefit Calculator
The cost benefit of BVD vaccinations tool allows producers to input their herd size, expected price, animal weights, cost of vaccine and labour to see the potential savings from vaccinating cattle for bovine viral diarrhea virus.
Click to download [.xlsx file | 96kb] Updated November 2021.
Learn More:
Economics of Pregnancy Testing Beef Cattle
The following calculator is based on the economics of preg-checking model which was developed by Ben-Ezra and Muzzin in 2015. It can help cow-calf producers determine which of the following three options is most economical for their operation:
Preg-check and cull non-pregnant cows in the fall.
Preg-check in the fall and feed non-pregnant cows separately to market at a later date.
Do not preg-check - overwinter all cows and cull opens in the spring after calving.
A basic and advanced version are available. Both versions have the option to enter parameters for feeding cull cows as a separate group.
Click to view the interactive tool.
Learn more:
Calculate the Value of Preconditioning Calves
This calculator evaluates the economic opportunity from preconditioning by providing a summary of estimated net returns and projected break-even price premiums of three different precondition programs.
Click to open the online calculator.
Learn more:
For more information on this project, or to share ideas for new tools, contact Dana Parker at parkerd@beefresearch.ca.