Print Page
On-farm Practices to Improve Food Safety
Cow-calf producers and feedlot managers have an important role to play in food safety. On-farm practices help to avoid certain food safety concerns at processing facilities to ensure the safety and confidence of consumers. Practices at the farm level are particularly critical to avoid contamination of meat by chemical residues and broken needle fragments.
On this page:
Key Points
Store and use animal health products according to the label and follow the 5 C's

Correct animal
Correct medication
Correct dose
Correct route
Correct time

To prevent broken needles always use a sharp needle and change needles often.
Never use a broken, barred or bent needle.
If a broken needle is suspected write it down and notify the next owner.
Maintaining general cleanliness of the facility, including proper garbage disposal.
Prior to shipping cattle ensure all withdrawal times have been met.
Ensure staff know who to contact in the case something goes wrong.
Minimize the Risk of Drug Residues
Store and use animal health products according to label directions (or in the case of extra-label use, according to a written veterinary prescription) to ensure:


the right product is used to treat the condition,
following the proper route of delivery (oral, subcutaneous, intramuscular, or intravenous),
in the proper dose, and
for the proper number of days.

Record all individual animal or group treatments on a permanent record which includes: the date(s), animal(s) identification, product used, dosage, route of administration (eg. Sub-Q or IM), withdrawal time, and initials or signature of person doing the task.
Make sure syringes and other equipment deliver the intended amount of product.
Avoid cross-contamination of drugs and other pharmaceuticals by following a routine procedure to clean needles, syringes and other animal health equipment.
Keep a copy of any written veterinary prescriptions used within the last two years.
Properly dispose of expired product, empty containers and used needles.
Follow biosecurity practices to reduce spread of infection among animals.
Do not market any cattle unless required withdrawal times have been met.
Prudent antimicrobial use also discourages the development of antimicrobial resistant microbes.
Other residues
If cattle are accidentally exposed to toxic chemicals or if poisoning is suspected (e.g. pesticides or lead batteries), consult a veterinarian to determine if or when surviving animals are safe for slaughter.
Prevent Broken Needles
| | |
| --- | --- |
| Suspected broken needles are rare, but it would be a serious food safety issue if a needle fragment were to end up in a meat product. As a producer, it is very important to take steps to prevent needles from breaking, and to know what to do if a broken needle is suspected. | |
To prevent broken needles:
Securely restrain the animal. Neck extenders on the chute help hold the animal's neck in place.
Use detectable needles, which are made of a type of steel with the same strength as traditional needles and are more likely to be identified by metal detectors at the plant. Ask for detectable needless wherever animal health supplies are sold.
Use only sharp needles, never dull or burred needles.
Change needles often – every 10 animals when vaccinating mature animals, and every time for sick animals. Reusing needles can transmit infections like Anaplasmosis or Bovine Leukemia Virus from animal to animal. Keep a full box of needles on hand.
Never straighten a bent needle for re-use.
Visually inspect needles after use to be sure they are intact on the syringe and not bent.
Use appropriate needle size and length. This will depend on the product viscosity and route of injection.
Use proper injection technique. Give injectable products in the neck and use under the skin (sub-Q or SC) method when recommended on the label. Broken needles in the neck are easier to detect at the plant level.
Discard used needles into a sharps container. Don't risk injury to other cattle, animals or people.
If broken needles occur:
Identify the suspect animal and record the incident on a permanent record.
Notify a buyer of the specific animal and location of the broken needle.
Alternatively, slaughter the animal at a smaller plant where instructions can be given to remove the area of meat around the injection site, and keep the beef for your own consumption.
To learn more about proper injection techniques, watch the video below titled Safe and Effective Injection Techniques with Dr. Kelsey Shacker at Olds College.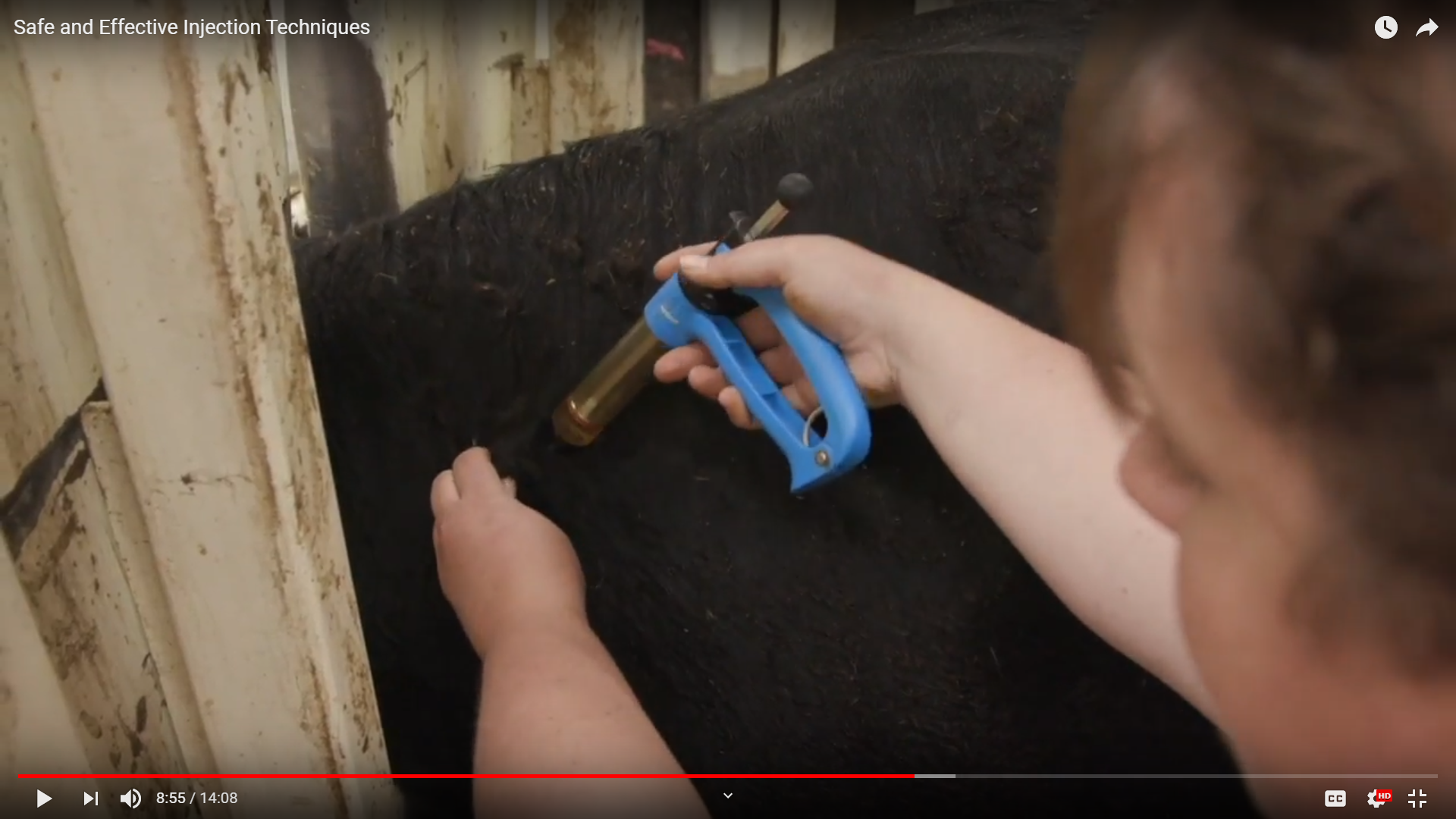 Can Vaccines Improve Food Safety?
A vaccine for cattle was developed to aid in the reduction of E. coli O157:H7 shedding in cattle. The vaccine was licensed for use in Canada, requiring three doses 21 days apart and a 60 day withdrawal period before slaughter.

The vaccine worked by immunizing cattle against the proteins that are expressed on the surface of E. coli O157:H7 cells. These proteins act as a receptor in intestinal walls, allowing the bacteria to colonize. The BCRC funded early stages of the research.

The vaccine had been shown to reduce shedding in some studies, but not all. Reduced shedding in live animals may not sufficiently reduce E. coli O157:H7 contamination on meat products. There was no evidence that immunization against E. coli O157:H7 with the vaccine would provide any cross protection against the other potentially hazardous pathogens, such as Campylobacter, Listeria, Salmonella, or non-O157 STEC strains of E. coli. It is also well known that not all cattle respond equally to a vaccination program.
The Canadian company that marketed the vaccine has sold its animal health division, and the vaccine is no longer included in the Canadian Compendium of Veterinary Products. International efforts to develop an vaccine that would effectively and reliably reduce STEC shedding in cattle and further improve food safety continue.
Medicated Feed
The use of medicated feed must be managed closely, and requires planning and equipment that function properly to ensure proper that the feed is mixed properly, and that the appropriate amount of medication is delivered to each animal in the pen.
Basic Husbandry
Maintaining general cleanliness of the facility, including proper garbage disposal (e.g. chemical, herbicide and drug containers) will minimize the risk of animal exposure and accidental ingestion of chemicals, which could lead to persistent residues in the tissues of animals sent to slaughter.
Ensuring pens have adequate, clean bedding with proper water drainage will minimize the potential for pathogens. Pens should be cleaned at least once per year when conditions allow to reduce the risk of tag (clumps of mud and manure on the hide). Shipping animals to the packer that are clean, with little or no tag, will minimize contamination of the carcass when hides are removed. Transport trailers should be cleaned and adequately bedded before animals are loaded.
Cattle Shipping
Ensure all animals have a CCIA tag.
Ensure all withdrawal times have been observed.
Not ship animals showing signs of illness.
Clearly inform the buyer of any of the animals have a broken needle, including the animal's tag number and the location of the injection.
Use a reputable transport company with clean, well-bedded trailers.
Training and Communication
If something goes wrong, or mistakes are made, producers should consider:
What can be done to immediately correct the problem?
Who to talk to (e.g. veterinarian, feed supplier, customer)? Record their advice and date it
If problem can't be corrected, who should be notified (e.g. customer)?
How should on-farm management practices change so that the error doesn't occur again?
Keep a record of action(s) taken – could be on a current form used in your cattle operation
Some examples of where this would apply:
Wrong medication given to animals or medicated feed delivered to the wrong pen
Incorrect dose or error in following label direction
Broken needle
An animal accidentally shipped before withdrawal time has elapsed.
Verified Beef Production Plus Program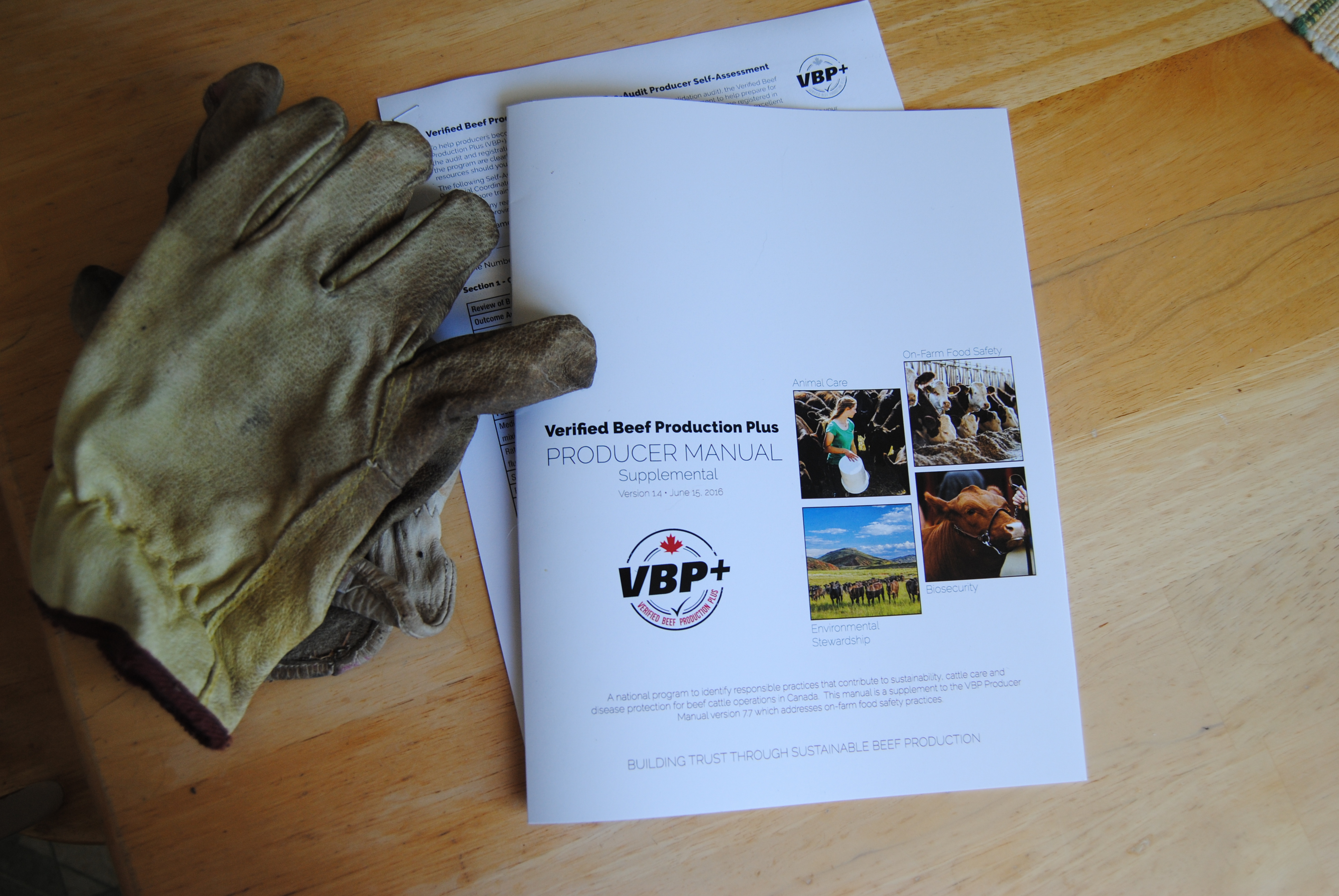 The Canadian Cattlemen's Association with its partner agencies delivers Verified Beef Production Plus (VBP+), which is a HACCP-based on-farm food safety program recognized by the CFIA for its technical soundness. The program encourages producers to follow veterinarian and drug label instructions to ensure that the appropriate product is chosen and responsible use is undertaken. In addition to accurate dosages, this means following the approved route of administration, observing pre-slaughter withdrawal times, and keeping records to demonstrate these steps were taken. The program was recently updated to include requirements for animal care, biosecurity and environmental stewardship.
For more complete, detailed information on proactive management procedures, refer to the VBP+ Producer Manual.
Feedback
Feedback and questions on the content of this page are welcome. Please e-mail us at info [at] beefresearch [dot] ca.
This topic was last revised on October 10, 2019 at 8:10 AM.